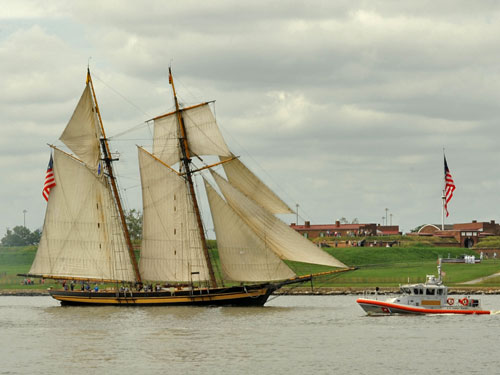 The Pride of Baltimore II, a topsail schooner replica, is one of the city's most recognizable vessels. Launched in 1988, the famous tall ship has logged more than 250,000 miles and visited more than 200 ports in 40 countries.
Pride of Baltimore II attracts tens of thousands of visitors each year and generates wide media coverage for the ship, the city of Baltimore, and the state of Maryland.
Pride of Baltimore II has also created unique educational opportunities for Marylanders. The replica ship showcases the dynamic designs of Chesapeake schooners and the pivotal role of Maryland privateers in the War of 1812.
Educational programs for students provide hands-on learning opportunities on the ship. At dockside, programs offer lessons in equipment, navigation, and the life of a sailor.
Pride's outreach programs also take place in classrooms, and educational programming has been presented on the vessel in conjunction with major events such as Light City Baltimore, Star-Spangled Sailabration in 2012, and Star-Spangled Spectacular in 2014.
The first Pride of Baltimore, a topsail schooner that recalled the Baltimore Clippers that helped the U.S. secure independence during the war of 1812, was commissioned in 1977 and sailed for nearly a decade before being lost at sea in 1986.
The Pride of Baltimore II was owned by the state of Maryland from 1988 to 2010, and now is both owned and operated by Pride of Baltimore, Inc., a nonprofit funded through corporate support, grants, individual gifts, and income from festival appearances and other sources.
In 2017, the organization celebrated the 40th anniversary of Pride in Baltimore, highlighted by Pride II's popular appearances in three tall ships festivals and two open-ocean races.
For more information, visit pride2.org
Related Information