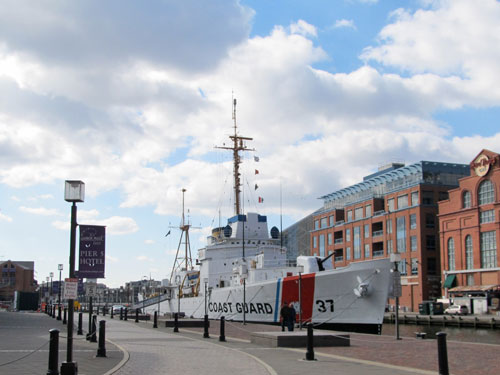 This page includes a collection of frequently asked questions (FAQ) related to Baltimore, Maryland and nearby areas.
Where is Baltimore?
The City of Baltimore occupies both sides of the Patapsco River in Maryland. One of America's largest and most well known cities, Baltimore is located a short distance from the Upper Chesapeake Bay.
Is Baltimore a city or county?
Both. Baltimore County surrounds the City of Baltimore.
What airports are near Baltimore?
Baltimore-Washington International Thurgood Marshall Airport (BWI) is located about 10 miles south of Baltimore. Several major commercial airlines offer regional, national, and international flights from BWI.
BWI is accessible by vehicle from I-95, I-97, I-695, I-895, and Baltimore–Washington Parkway via Interstate 195. BWI's Rail Station is a stop for Baltimore Light Rail, Amtrak, and MARC trains.
Also near Baltimore is Martin State Airport, a general aviation facility for small planes and other private aircraft.
Where is a good place to start when visiting Baltimore?
The Inner Harbor is a great place to begin a tour of the city. Nearby is the Visitor Center where travelers can find brochures, guide books, maps, and other tourism information. Within walking distance of the Inner Harbor are many of Baltimore's most famous attractions.
What professional sports teams are located in Baltimore?
The Baltimore Ravens (NFL football) and Baltimore Orioles (Major League baseball) are the city's two most successful professional sports teams.
What is the Preakness?
The Preakness Stakes is the second race in the United States Triple Crown of Thoroughbred Racing. The world famous thoroughbred horse race has been held every May at Pimlico Race Course in Baltimore since 1873.
What are some nicknames for the City of Baltimore?
Baltimore is also known as Charm City, Bmore (B-more), Baltimore City, and other names. In the colonial period, the community was often called Baltimore Town.
What are residents of Baltimore known as?
Residents of Baltimore are known as Baltimoreans. A few neighborhoods and communities have specialized names for residents. For example Dundalk residents are sometimes known as Dundalkers.
What cruise ships depart from or visit Baltimore?
Departing from Baltimore, Cruise Maryland offers cruises to the Bahamas, Bermuda, Canada/New England, and the Caribbean.
Royal Caribbean International's Grandeur of the Seas and Carnival Cruise Lines' Pride sails out of Baltimore.
Norwegian Cruise Line offers seasonal cruises departing from the Port of Baltimore.
Sailing from outside the USA, cruise ships from AIDA Cruises and Amadea Shipping Company visit the Port of Baltimore.
How far is it from Baltimore to the Atlantic Ocean?
The mid-point of Baltimore Harbor is approximately 150 miles from the Virginia Capes, where the Chesapeake Bay converges with the Atlantic Ocean.
How deep is Baltimore Harbor?
The major navigational channels leading into Baltimore are maintained at specific depths as needed. Craighill Entrance Channel and Curtis Bay Channel are maintained at 50 feet, plus or minus a few feet. Other major channels range from 40-49 feet in depth. The port of Baltimore contains numerous ship berths with depths as much as 50 feet.
What is the largest ship that can dock in Baltimore?
The Port of Baltimore can process New Panamax (neopanamax) class container ships. In May, 2019, the Evergreen Triton became the largest container ship to ever visit the Port of Baltimore, Maryland. The massive ship has a length of 369 meters, beam of 51.2 meters, and draft of 50 feet.
How deep is the Inner Harbor?
The depth of the water in the Inner Harbor varies by location. The harbor's small boat slips have depths around 18 feet. The channel leading into the Inner Harbor is around 20-25 feet deep. Some spots in the harbor are more than 30 feet deep.
How deep is the Patapsco River?
Outside of the main channels, depths in the Patapsco River vary greatly. Currents in the river are approximately 0.8 knots on the flood and ebb tides.
In the freshwater runs above Baltimore, depths can vary from a few inches to 10 feet or more. Many of the deepest areas occur along sharp bends in the river.
Is Baltimore harbor freshwater or saltwater?
The water in Baltimore Harbor is brackish (a mixture of freshwater and saltwater). Salinity typically ranges from 5-18 ppt.
Where is Baltimore Harbor Light?
One of the Chesapeake Bay's most iconic landmarks is Baltimore Harbor Light Station. The historic lighthouse is located near the mouth of the Magothy River, about 1.6 miles southeast of Gibson Island.
How do I get to Hart Miller Island and Pleasure Island?
Hart-Miller Island is located on the Chesapeake Bay near the mouth of Middle River. The island is accessible only by private boat.
Together, Hart-Miller Island, Pleasure Island, and Hawk Cove comprise Hart-Miller Island State Park. Hart-Miller Island and Pleasure Island are accessible only by private boat.
Where can I find information about coronavirus (COVID-19)?
Centers for Disease Control: https://www.cdc.gov/
Maryland Department of Health: https://phpa.health.maryland.gov/
City of Baltimore: https://health.baltimorecity.gov/
Baltimore County: https://www.baltimorecountymd.gov/
How can I submit questions about Baltimore?
To submit comments or additional questions about Baltimore, visit this page.
Related Information