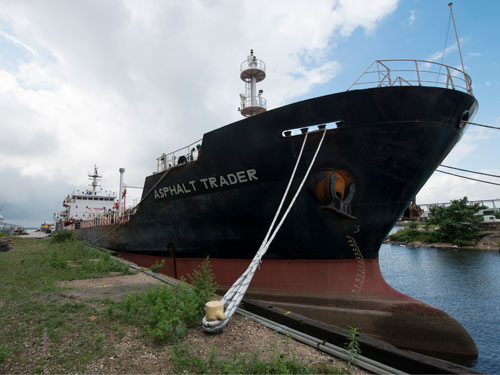 The Helen Delich Bentley Port of Baltimore is one of America's top ports. The Port of Baltimore ranks first in the nation for autos and light trucks, roll on/roll off heavy farm and construction machinery, imported sugar, and imported gypsum.
The Port of Baltimore is one of the few ports on the East Coast to have 50-foot deep channels and berthing, with specialized infrastructure necessary to accommodate mega-ships that pass through the expanded Panama Canal.
Ports America Chesapeake operates Seagirt Marine Terminal, the Port's container terminal.
To accommodate larger vessels, MDOT MPA and Ports America Chesapeake have undertaken a $32.7 million project to develop a second 50-foot-deep container berth at Seagirt Marine Terminal.
In 2021, four supersized, Neo-Panamax container cranes were installed at the Seagirt Marine Terminal. The new cranes will serve the Port's second 50-foot-deep berth.
Having two deep berths at Seagirt Marine Terminal will allow the Port to serve two New Panamax cargo ships simultaneously.
In May, 2019, the Evergreen Triton arrived at the Port of Baltimore becoming the largest container ship to ever visit Maryland. The Evergreen Triton is a New Panamax (neopanamax) class container ship with a length of 369 meters, beam of 51.2 meters, and draft of 50 feet. The massive ship has the capacity to handle 14,424 Twenty-foot Equivalent (TEU) containers.
In July 2019, the public marine terminals of the Port set a new record for cargo, handling 98,529 containers.
In February 2021, longshore workers at Seagirt Marine Terminal set a new record for container moves. While unloading and loading the supersize container vessel Maersk Edinburgh, crews made 6,000 container moves over three days, the most ever moves from a single ship in the 315-year history of the Port.
The Port of Baltimore is also home to a fleet of cruise ships and touring vessels. Cruise Maryland offers year round cruising to the Bahamas, Bermuda, Canada/New England, and the Caribbean.
Royal Caribbean International's Grandeur of the Seas and Carnival Cruise Lines' Pride sails out of Maryland.
In 2023, Norwegian Cruise Line began a fall and winter sailing schedule departing from the Port of Baltimore.
AIDA Cruises, a British-American owned cruise line based in Germany and MS Amadea, owned by Amadea Shipping Company also visit the port.
Supporting the Port of Baltimore is a network of trucking companies, warehouses, logistics, tugboats, dockside workers, maintenance shops, training facilities, public safety entities, business organizations, and others.
Related Information
Port of Baltimore Modernization Projects