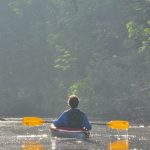 Baltimore Maryland is famous for its sports and recreational activities.
Outdoor Recreation
Baltimore area outdoor enthusiasts enjoy freshwater fishing, saltwater fishing, kayaking, and other activities.
Just minutes from the Inner Harbor, the Chesapeake Bay offers a wide array of recreational opportunities.
Baltimore is the home port for a number of fishing charter boat and guides, boat tours, and other attractions.
Outdoor guides also offer kayaking trips, guided fly fishing, bird watching, nature tours, waterfowl hunting, and other outdoor activities.
For more fishing information, visit our overview pages of fishing piers, and saltwater fishing techniques.
Organized Team and Individual Sports
Facilities for team and individual sports are found throughout Baltimore and surrounding areas. Parks, fields, gyms, and other sports areas are maintained by the City of Baltimore, Baltimore County, surrounding counties, local organizations, private clubs, and local businesses.