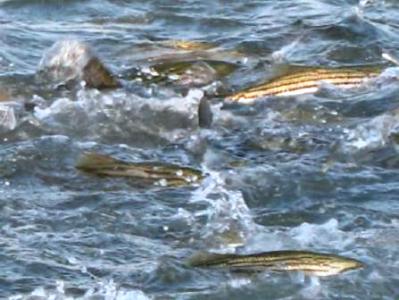 Saltwater anglers near Baltimore employ a variety of fishing techniques depending on location, season, fish species, and personal preference.
Bottom Fishing
Bottom fishing is one of the most popular saltwater fishing techniques. Bottom fishing is done along shorelines, jetties, piers, and aboard boats.
Most fishermen use natural baits and traditional two-hook top and bottom leaders or other rigs. Popular bottom fishing baits include peeler crabs, bloodworms, squid, cut fish, clams, shrimp, and grass shrimp.
In some areas, anglers use whole live baits while bottom fishing. Live baits are usually fished with specialized tackle such as fish-finder or Carolina bait rigs.
Bottom fishing is effective for catching striped bass (rockfish), white perch, croaker, spot, flounder, bluefish, and other species.
Casting
Casting is another popular technique. Located near Baltimore are rocks, jetties, piers, bridges, shipwrecks, points, and other structures where anglers cast jigs, topwater poppers, and other lures.
Light Tackle Jigging
Light tackle jigging (LTJ) is another fishing technique that is popular in the upper Chesapeake Bay. This oldschool fishing style is used to catch striped bass, bluefish, and seatrout.
Trolling
Trolling is a traditional technique for catching striped bass (rockfish). Trolling is done mainly in the spring and fall, when stripers are migrating through the deepwater channels near Baltimore. Popular lures for trolling include large bucktails, parachute jigs, umbrella rigs, large soft plastics, and swimming plugs.
During the summer, trolling is an extremely effective technique for catching Spanish mackerel and bluefish. Anglers targeting mackerel and blues troll small, shiny spoons behind drails (inline sinkers) or planers. When trolling for Spanish Mackerel, trolling speed is increased to 5 knots or more.
Chumming
Chumming is another fishing technique, done primarily in the summer and early fall. Fishermen chum with ground fish, clams, and other baits to attract striped bass, bluefish, and other species.
Related Information