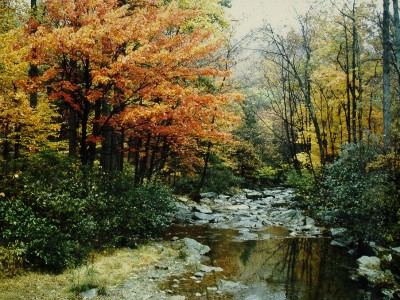 The City of Baltimore is located near many of the nation's top freshwater fishing destinations, including reservoirs, lakes, rivers, creeks, and streams.
Rivers
Nearby are several major rivers including Gunpowder Falls, Middle, Back, Magothy, Patapsco, Severn, South, Patuxent, and Potomac rivers. Each of these waterways sustain populations of freshwater species.
The Gray's Run and Winter's Run areas along the upper Bush River are popular for yellow perch fishing. Public access along the upper Bush River is limited although several access points exist on the lower river, near Otter Point Creek.
The Back River is also known for its early spring runs of yellow perch. The lower river can be accessed at Rocky Point State Park and North Point State Park. Upriver, Cox Point Park provides limited access. In North Baltimore, Herring Run Park covers hundreds of acres along the Herring Run segment of the river.
To the North of Baltimore, the Gunpowder River is known for its fishing opportunities. On the lower Gunpowder, anglers can access the river at Mariner Point Park.
Gunpowder Falls state park provides access in several locations for fishing and other recreation. Gunpowder Falls (also called Big Gunpowder Falls), and Little Gunpowder Falls sustain trout and other freshwater species.
On the Patapsco River, fishing opportunities are available at several locations. Just above the Inner Harbor, Southwest Area Park (Baltimore County) includes a boat launching facility, trails, and other assets. Nearby, the Bell Grove Ponds contain a variety of shallow water fish habitat.
In southwestern Baltimore County, the Gwynns Falls Watershed contains 133 miles of streams leading to the Middle Branch of the Patapsco River.
Patapsco Valley State Park provides anglers with access to nearly 35 miles of the Patapsco River, from Woodbine in the west to Elkridge in the east.
To the south, the Magothy River is a popular waterway for catching yellow perch, white perch, catfish, and other species.
A number of rivers and creeks near Baltimore are known for their tidal largemouth bass fisheries. Maryland DNR stocks largemouth bass in the Susquehanna Flats-Upper Chesapeake Bay area, Bush, Gunpowder, Middle, Patapsco, and Patuxent.
Maryland DNR tidal bass surveys suggest that largemouth bass fisheries exist in Dundee Creek, Gunpowder River, Byrd River, Swan Creek.
Farther up the Chesapeake, the shoreline from Swan Creek to Havre De Grace and east to the lower Northeast River tends to hold even greater numbers of largemouth bass.
Reservoirs
Along Gunpowder Falls, Loch Raven Reservoir and Prettyboy Reservoir sustain dozens of freshwater fish species.
Northwest of Baltimore City, Liberty Reservoir is a component of the Patapsco Watershed. At 3100 acres, Liberty Reservoir is the largest of Baltimore County's major reservoirs. To the west is Piney Run Reservoir, an impoundment of the Patapsco's Piney Run tributary.
Other large impoundments near Baltimore include, Triadelphia (Patuxent River), Rocky Gorge – T. Howard Duckett Reservoir (Patuxent River), and Little Seneca Lake (Seneca Creek).
Small Lakes and Ponds
Often overlooked, small impoundments sometimes provide freshwater fishing opportunities. Small lakes usually contain species such as largemouth bass, sunfish, crappie, pickerel, catfish, carp, suckers, yellow perch, and white perch.
Lake Roland (100 acres) is known for its largemouth bass and carp fishing. The lake is located along the Jones Falls tributary of the Patapsco River. Baltimore County maintains a 500 acre park and nature center with kayak and small boat access.
In Anne Arundel County, Lake Waterford Park is home to a 12 acre lake with shoreline access for fishing.
Freshwater Species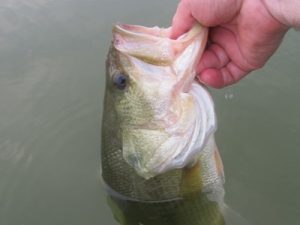 Largemouth bass, sunfish, crappie are common in lakes, ponds, and other water bodies throughout the area. A few waterways sustain smallmouth bass.
Bluegill sunfish and black crappie are caught throughout the area. Panfish anglers may also encounter redear sunfish, pumpkinseed, red-breasted sunfish, rock bass, green sunfish, and others.
Rainbow trout, brown trout, and native brook trout are found in coolwater sections of Gunpowder Falls and the upper Patapsco. Occasionally, anglers encounter tiger trout in the area. The brown trout x brook trout hybrids are named for their unusual markings.
For many anglers, the yellow perch is an important species to the region. These small but hardy panfish are known for their spring spawning runs which can begin in January or February.
Much of the early spawning season fishing for yellow perch occurs in the upper runs of area rivers. Public access to fishing areas can be a challenge, so pre-season research is essential.
The chain pickerel is another species that is active in the cooler months. Chain pickerel are common throughout the region in freshwater to brackish areas where vegetation and bottom structure is abundant.
Walleye are found in larger impoundments, especially in Western Maryland. They are also caught on occasion on the lower Susquehanna.
Channel catfish are found throughout the region, in lakes, ponds, rivers, and creeks. Catfish are often caught by bottom fishing with nightcrawlers, bloodworms, hellgramites, and stinkbaits. They can also caught by jigging or casting a variety of lures.
The blue catfish is another species that is encountered in rivers near Baltimore. Many of the largest blue cats are caught below on the lower Susquehanna below Conowingo Dam.
The common carp is a popular species in central Maryland. Carp are found in lakes, ponds, and backwater areas of rivers, especially where vegetation is abundant. In the tidal Patapsco River, skilled anglers catch trophy class carp of 36 inches or more.
The northern snakehead, an invasive species from Asia, is becoming a common catch for freshwater anglers.
Snakeheads are most common in the Lower Susquehanna, Potomac Watershed, and rivers on the Eastern Shore of Maryland.
Anglers have reported catches of northern snakeheads at several locations near Baltimore including Gunpowder Falls State Park, the Bird River, and Little Seneca Creek in Montgomery County.
Migratory Species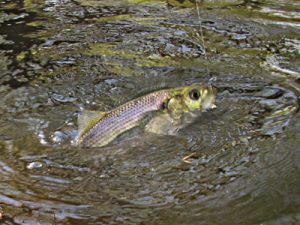 Several rivers receive seasonal spawning runs of anadromous fish species including American shad, hickory shad, river herring, yellow perch, white perch, and striped bass.
The white perch, a favorite panfish, is found throughout waterways near Baltimore. Unlike some species, white perch are able to move freely between freshwater, brackish, and saltwater environments.
In freshwater rivers striped bass are a possibility, especially in bodies of water that connect to the Chesapeake Bay. Often considered a saltwater species, striped bass sometimes migrate considerable distances into freshwater areas. Striped bass have been stocked in several large impoundments in the region.
Shad and river herring are among the most popular migratory fish in the region. Each spring, American shad, hickory shad, blueback herring, and alewives migrate up local rivers to spawn.
Popular areas for catching shad near Baltimore include the lower Susquehanna below Conowingo Dam, the Patapsco, and the Patuxent.
Northeast of Baltimore, shad are caught in the Gunpowder River, from US Route 40 north to the fall line. At Big Gunpowder Falls, a popular area for shad fishing is along the Jones Road trail.
In the Patapsco River, shad and river herring run through Patapsco Valley State Park. Near Baltimore, the Patapsco River shad fishery holds considerable potential for anglers.
An important milestone occurred in 2019, when the Bloede Dam removal was completed. With the obstacle to fish passage cleared, shad and other migratory species can now access roughly 60 miles of important spawning habitat on the upper Patapsco.
Above Ellicott City, the Daniels Dam remains. The structure includes a fish ladder to allow the passage of shad, herring, eels, and other fish.
Along the Patuxent River, the stretch from Queen Anne's Bridge to Wayson's Corner is a popular area for catching hickory shad and American shad.
Shad and river herring stocks are monitored on the Patapsco and Patuxtent, and stocking programs support populations as necessary.
Freshwater fishing regulations, fish consumption advisories, and other information is available at the Maryland Department of Natural Resources website (dnr.maryland.gov).
Related Information