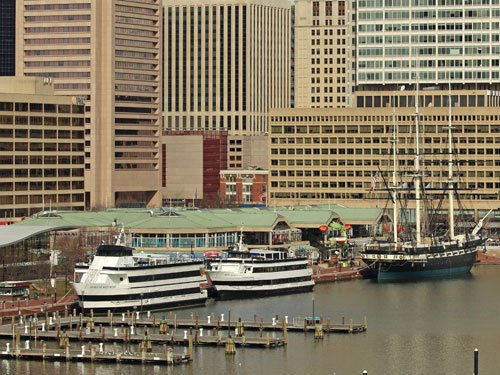 This page includes facts, statistics, and other information about Baltimore, Maryland.
General Facts and Statistics
Baltimore is the most populous city in the U.S. state of Maryland.
Baltimore is also known as Charm City, Bmore (B-more), Baltimore City, and other names.
The Inner Harbor is nationally recognized as an example of urban transformation. The harbor and surrounding neighborhoods are a major tourist attraction.
History
During the colonial period, the community was often called Baltimore Town. From its earliest beginnings, Baltimore was known for its harbor, maritime commerce, shipbuilding trade, and other assets.
In and near Baltimore are numerous National Register Historic Districts, Baltimore City Historic Districts, Baltimore National Heritage Area, and Patapsco Valley Heritage Area.
The City of Baltimore and nearby areas are home to hundreds of historic buildings, memorials, vessels, lighthouses, and other landmarks.
Port of Baltimore
The Port of Baltimore is one of the few ports on the East Coast to have 50-foot deep channels and berthing.
In May, 2019, the Evergreen Triton berthed at the Port of Baltimore becoming the largest container ship to ever visit Maryland. The Evergreen Triton is a New Panamax (neopanamax) class container ship with a length of 369 meters, beam of 51.2 meters, draft of 50 feet, and capacity to handle 14,424 Twenty-foot Equivalent (TEU) containers.
In July 2019, the public marine terminals of the Port set a new record for cargo, handling 98,529 containers.
In August 2020, longshore workers at the Helen Delich Bentley Port of Baltimore's Seagirt Marine Terminal set a new record for container moves. While unloading and loading the supersize container vessel Maersk Edinburgh, crews made 5,536 container moves over three days
Located around Baltimore Harbor are several famous ships, lighthouses, and other landmarks. Favorites include the tall ship Constellation, Submarine Torsk, Coast Guard Cutter Taney, Chesapeake Lightship, SS John W. Brown, Steam Tug Baltimore, Seven Foot Knoll Lighthouse, and Lazaretto Point Lighthouse (Replica).
The Francis Scott Key Bridge is a familiar landmark near Baltimore Harbor. Located on I-695 (Baltimore Beltway, the bridge spans the lower Patapsco River between Hawkins Point and Sollers Point.
Each summer, the U.S. Coast Guard deploys the Francis Scott Key memorial buoy in the Patapsco River near the bridge. The buoy marks the approximate location where Francis Scott Key wrote the U.S. National Anthem during the bombardment on Fort McHenry in 1814.
Several historic lighthouses are located along the Chesapeake Bay approaches to Baltimore Harbor.
Near the mouth of the Patapsco River, the White Rocks have been well known to mariners for centuries. In clear weather conditions, the massive rock formation can be seen from Baltimore Harbor.
Sports and Recreation
The Baltimore Ravens (NFL Football) and Baltimore Orioles (Major League Baseball) are the city's two most successful professional sports teams.
The Preakness Stakes, the second race in the United States Triple Crown of Thoroughbred Racing, has been held at Pimlico Race Course in Baltimore since 1873.
Near Baltimore, saltwater anglers catch striped bass (rockfish), white perch, croakers, spot, sea trout (weakfish), flounder, bluefish, Spanish mackerel, and others.
Local rivers receive seasonal spawning runs of migratory fish including American shad, hickory shad, river herring, yellow perch, white perch, and striped bass.
In freshwater lakes, reservoirs, ponds, and streams, anglers catch rainbow, brook, and brown trout, black bass, sunfish, crappie, walleye, yellow perch, white perch, chain pickerel, stocked stripers, catfish, carp, northern snakeheads, and other species.
Acronyms (all)
BPA – Baltimore Port Alliance
CCC – Charm City Circulator
CBB – Chesapeake Bay Bridge
DMMP – Dredged Material Management Plan
DMT – Dundalk Marine Terminal
FSKB – Francis Scott Key Bridge
GBCA – Greater Baltimore Cultural Alliance
MHT – Maryland Historical Trust
MIZOD – Maritime Industrial Zoning Overlay District
Related Information