The Francis Scott Key Bridge is one of Baltimore's most familiar landmarks. Located on I-695 (Baltimore Beltway, the bridge spans the lower Patapsco River between Hawkins Point and Sollers Point. The bridge is the outermost of the three major crossings of Baltimore Harbor.
The Francis Scott Key Bridge is a popular destination of pleasure boaters, tourists, anglers, and other explorers. Several local tour boats and cruise vessels offer trip routes near the bridge.
The bridge pilings and other components form an underwater reef that attracts striped bass, white perch, and other sport fish. Near the bridge's western end, Fort Armistead Park includes boat launching ramps, a fishing pier, and views of the bridge.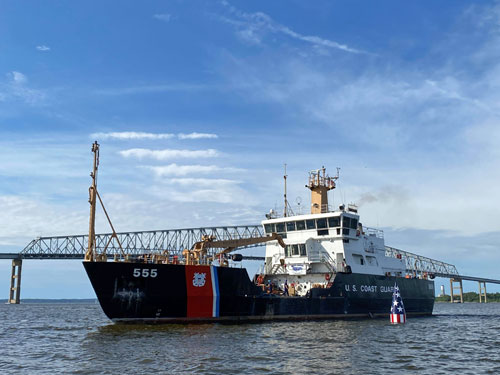 Each summer, the U.S. Coast Guard deploys the Francis Scott Key memorial buoy in the Patapsco River near the bridge. The star-spangled buoy marks the approximate location where Francis Scott Key wrote The country's National Anthem while trying to facilitate the release of a prisoner being held on a British ship during the bombardment on Fort McHenry in 1814.
NOAA's National Ocean Service maintains a Coastal Marine Automated Network (C-MAN) Station at Francis Scott Key Bridge. Station FSKM2 – 8574728) provides real time and historical data including wind speed and direction, air temperature, atmospheric pressure, and other information. Data from Station FSKM2 can be accessed online via the National Data Buoy Center website (ndbc.noaa.gov).
Located just southeast of the bridge is Fort Carroll, a small, deserted, man-made island. Originally designed to be a military asset, the project was halted, re-purposed, and abandoned multiple times before finally being sold off. Today the island sits silently in the river, providing refuge for birds and other wildlife.
The Francis Scott Key Bridge was formerly known as the Outer Harbor Crossing. Other local names include Key Bridge, FSK bridge, and Beltway Bridge.
Related Information