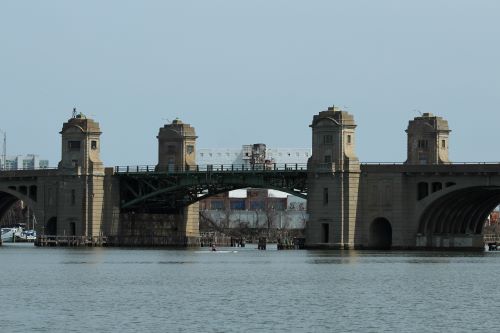 The Hanover Street Bridge is one of Baltimore's best known landmarks. The Hanover Street Bridge spans the Middle Branch of the Patapsco River.
On the south side of the bridge are the communities of Cherry Hill and Brooklyn. North of the bridge is Port Covington and South Baltimore.
Designed by John E. Greiner for the Maryland State Roads Commission, the 2290 foot Beaux Arts-style bridge features four concrete towers that support its bascule draw span.
Along its span, a series of concrete arches provide structural support while enhancing the bridge's visual appeal.
The structure was officially renamed the Vietnam Veterans Memorial Bridge in 1993.
The bridge can be viewed from several vantage points in Baltimore. From the Northwest, the bridge can be viewed from West Covington Park. The bridge is also visible from Ferry Bar Park in Port Covington.
On the southwest side of the bridge, an excellent view can be experienced from Cherry Hill Park. Along the southeast side of the bridge, the Vietnam Veterans Memorial, Broening Park Boat Ramp and the Middle Branch Trail offer a variety of scenic views of the bridge.
Despite poor surface conditions, the pedestrian path over the bridge is popular with walkers.
Commercial vessel traffic through the bridge is limited. Clearance under the bridge is approximately 38 feet. The two‐leaf bascule span can open for larger vessels.
An effort to complete a major renovation of the Hanover Street Bridge is underway, although a lack of funding has delayed the process.
Related Information