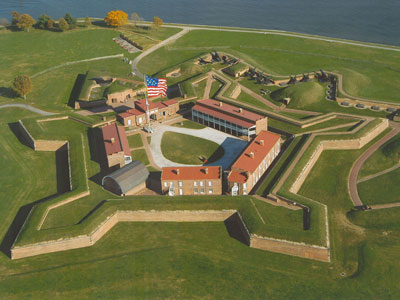 Fort McHenry is one of the nation's most important historic sites. The Fort is famous for withstanding the British naval bombardment of 1814. During the all night battle, Francis Scott Key was inspired to write the U.S. National Anthem.
Fort McHenry National Monument and Historic Shrine is comprised of the Star Fort, cannon batteries, seawall, walking trail, and other historical structures.
Extending one mile around Fort McHenry and the visitor center, the seawall trail overs extensive views of Fort McHenry's defensive structures, Baltimore Harbor, and nearby vistas.
An array of vessels travel along the Patapsco River near the seawall. Marine traffic ranges from small pleasure boats to ocean-going ships, assisted by tugboats.
From the seawall trail, visitors can spot several of the city's most iconic landmarks. To the north in the distance is Canton Waterfront Park.
Across the harbor at Clinton Street Marine Terminal, are U.S. Navy hospital ships, maritime infrastructure, Lazaretto Point Lighthouse (Replica), and Lazaretto Point. To the southeast in the distance is the iconic Francis Scott Key Bridge.
Other points of interest along the trail include the Orpheus and Armistead statue, outer battery of Civil War cannons, a water battery with 1814 cannons, and ornamental trees.
Related Information