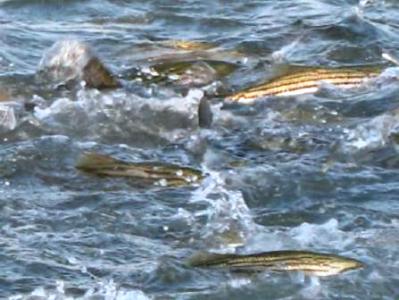 Baltimore Maryland is well known as a saltwater fishing destination. The city offers convenient access to the Chesapeake Bay from Baltimore Harbor and other nearby locations.
Anglers departing from Baltimore fish for striped bass (rockfish), white perch, croakers, spot, sea trout (weakfish), flounder, bluefish, Spanish mackerel, and other species.
Recreational crabbing is also popular on the nearby Chesapeake Bay and its tidal rivers.
Baltimore has an excellent fleet of charter boats, fishing guides, and local tours. Outdoor guides offer kayak tours, guided fly fishing trips, nature tours, waterfowl hunting, and other outdoor activities.
Near Baltimore are scores of marinas, tackle shops, yacht clubs, fishing clubs, associations, and other institutions that serve anglers.
Saltwater Fishing Locations
Conowingo Dam – Susquehanna Flats
Located within a short distance of Baltimore is the Conowingo Dam and Susquehanna Flats. Accessed from the city Havre De Grace, these areas are famous for their outstanding fishing.
Below the dam, a number of species congregate, including blue catfish, channel catfish, striped bass (rockfish), shad, largemouth bass, and others. In springtime, the Susquehanna flats come live as trophy class stripers move in the shallows to spawn.
Chesapeake Bay
The upper and middle Chesapeake Bay near Baltimore contains a wide range of fishing spots including shoals, lumps, natural reefs, channels, and manmade structures.
The shipping channel near Baltimore attracts trophy-class striped bass (rockfish). In spring, anglers troll along the channel for striped bass as they move back down the bay after spawning.
During summertime, anglers also fish along the southern end of the shipping channel edges for bluefish, Spanish mackerel, and other species. Each season is unique, with the northernmost range of fish varying from year to year along the channel.
Again in the fall, trophy striped bass fishing occurs along much of the shipping channel. As striped bass move south, some anglers follow the fish as far as the Virginia line.
Natural Structure
Located near Baltimore are a wide range of natural bottom features, including ancient shellfish beds, shoals, lumps, and other structures that attract fish, crabs, and other marine life.
Popular fishing areas include Tea Kettle Shoals, Tolchester Lumps, Gales Lumps, Hodges Bar, Man O' War Shoals, 6 foot knoll, 7 foot knoll, 9 foot knoll, Belvedere Shoals, Snake Reef, Swan Point Bar, the Dumping Ground, and others.
Near Baltimore are several areas where natural rock formations protrude from the water. The White Rocks near the mouth of the Patapsco River have been well known to mariners for centuries.
The massive formation, which can be seen from urban Baltimore, is a familiar landmark to locals. In addition to their beauty and mystique, the massive rocks sometimes shelter schools of white perch.
Smaller rock formations can be found near the mouth of Rocky Creek and at Rocky Point along the Back River.
Artificial Reefs and Oyster Reefs

Numerous artificial reefs, oyster reefs, and other man-made resources are located near Baltimore. East of North Point, four Chesapeake Bay artificial reefs (Pooles Island, Tolchester, Gales Lumps, and Memorial) attract a variety of fish species.
A few miles to the south are two additional artificial reef sites: Swan Point and Love Point.
In many areas, natural oyster reefs have been enhanced by the addition of reef balls, rubble, or other substrates. In the Magothy River, several oyster reefs contain reef balls that attract fish and other marine life.
Bridges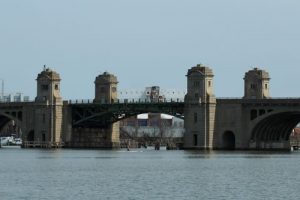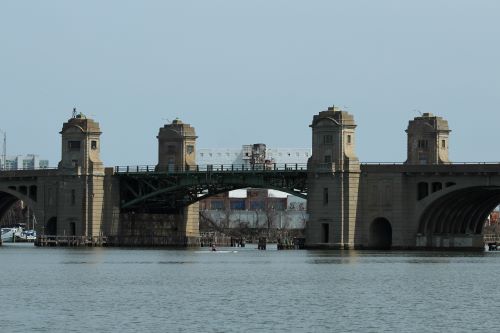 Several bridges near Baltimore offer fish attracting structure. The Francis Scott Key Bridge is popular with boaters and shoreline anglers. Nearby are bridges over Curtis Creek.
At the west end of Baltimore Harbor, the Hanover Street Bridge provides fishing opportunities for boaters and shorebound anglers. The bridge attracts white perch, striped bass, catfish, and other species.
Just south of Baltimore is the Chesapeake Bay Bridge. Spanning 4.3 miles, the dual bridge spans provide prime fish habitat for striped bass, white perch, and other species.
The Chesapeake Bay Bridge and nearby structures include a wide range of environments where anglers can practice their craft. With its deep water and frequently rough conditions, the main channel is often targeted by large charter vessels.
The bridge pilings offer fishing opportunities for smaller craft. Nearby, Sandy Point State Park is popular for shore fishing, crabbing, boat launching, and kayak launching.
Patapsco River
The Patapsco River is one of the most important destinations for saltwater fishing. Flowing from western Maryland, the Tidal Patapsco passes through metropolitan Baltimore, including the world famous Inner Harbor.
Below the Inner Harbor, the river is joined by Bear, Jones, North Point, Curtis, Stony, Rock, Main, Back, and Bodkin Creeks. Several of these tributaries sustain populations of white perch, striped bass, catfish, and other species.
Other Rivers and Creeks
North of Baltimore, several rivers and creeks offer fishing opportunities. Near Essex, the Back River is a popular saltwater fishing destination.
Along its banks are Rocky Point Park and portions of North Point State Park. Near the mouth of the Back River is Cedar Point and Hart-Miller Pleasure Island State Park.
Just North of Cedar Point is the Middle River. The lower Middle River consists of a network of coves, small creeks, and marshes where a variety of fish and wildlife find refuge.
Also located along the I-95 corridor are the Gunpowder and Bush Rivers. Near White Marsh, a portion of Gunpowder Falls State Park provides access to the Tidal Gunpowder.
To the south of Gibson Island is the Magothy River, another popular fishing spot.
Free Fishing Areas
The following Maryland free fishing locations are located near Baltimore City:
Canton Recreational Pier at Boston Street
Hull Street Recreational Pier
Middle Branch Park from fishing pier south of the Hanover and Pottee Street Bridges, to Hanover Street Bridge over Middle Branch
Cox's Point on Back River and Deep Creek
A MD angler registration is required for anglers fishing without a license in designated license free fishing areas. For more information, visit www.dnr.maryland.gov.
Related Information