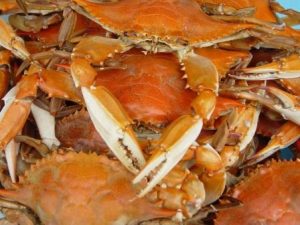 Baltimore is famous for its local and regional seafood. Visitors to this famous city will find a wide range of seafood including Chesapeake Bay blue crabs, oysters, clams, rockfish (striped bass), perch, croaker, spot, flounder, bluefish, and other delicacies.
Popular Seafood Dishes
With such a wide range of fish and shellfish to choose from, there is something for nearly everyone. The Chesapeake Bay or Maryland blue crab is perhaps Baltimore's most iconic seafood dish. Popular blue crab dishes include whole steamed crabs, crabcakes, crab meat appetizers, and soft-shelled crabs.
Clams and oysters are also popular in Baltimore cuisine. Oysters are served on the half shell, steamed, single-fried, oyster stew, and other dishes.
A wide range of fish are available in Baltimore's restaurants and markets. The striped bass or rockfish favored locally. Harvested locally, this attractive fish the known for its distinctive flavor and firm white meat. The white perch, a smaller relative of striped bass, is also locally sourced. Other fish from the Chesapeake Bay include croakers, spot, bluefish, and Spanish mackerel.
For more information about Baltimore Maryland, see our History, Facts, and FAQ pages.