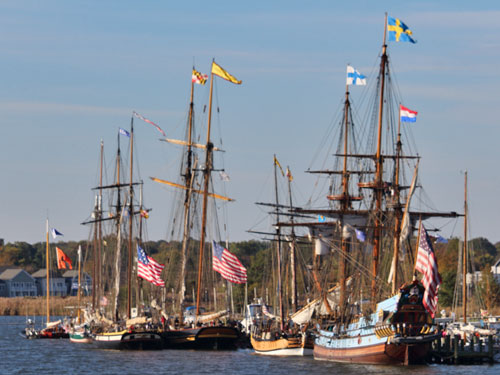 Baltimore's unique location makes it a great starting point for exploring nearby attractions. Located nearby are hundreds of destinations that can be experienced in a day, weekend, or week-long excursion.
Local and regional destinations include small towns, resort communities, beaches, rivers, wild areas, farms, wineries, parks, wildlife refuges, historical sites, and other places to explore.
To the north lies rural Maryland and Pennsylvania. To the east are the beaches and small towns of the Eastern Shore. To the south is Annapolis, Washington D.C., and southern Maryland. To the west are Harpers Ferry, Deep Creek Lake, and the mountains of western Maryland.
Annapolis
Just minutes from downtown Baltimore, Annapolis is a popular destination for 1/2 day or day trips. The Capital of Maryland, Annapolis is famous for its historical buildings, specialty shops, harbors and marinas, Naval Academy, and other attractions.
A road trip is the most common way of traveling from Baltimore to Annapolis. Alternatives include day and overnight cruises by boat.
Kent Island
Just across the Chesapeake Bay Bridge is Kent Island. Surrounded by the Chesapeake Bay, Eastern Bay, and Chester River, Kent Island is famous for its saltwater-based recreation including fishing, crabbing, cruising, sailing, kayaking, and other outdoor.
Chestertown
Another historic town of the Eastern Shore, Chestertown lies along the banks of the Chester River. The town is known for its Downrigging Weekend tall ships festival, Historic District, and local food scene.
St. Michaels
St. Michaels is one of Maryland's oldest waterfront towns. Located along the banks of the Miles River, Saint Michaels is known as the "Town that fooled the British" as it is said to have evaded a bombardment during the War of 1812.
Visitors to St. Michaels can explore historical landmarks, marinas, museums, shops, restaurants, bed and breakfasts, and enjoy dozens of things to do. Nearby, travelers can visit Bellevue and take the ferry to Oxford.
Cambridge
Cambridge is a friendly, waterfront town on the Choptank River. The town has numerous waterfront parks, marinas, and a replica lighthouse. Nearby is Blackwater Wildlife Refuge, a favorite stop for watching bald eagles and waterfowl.
Ocean City
Ocean City Maryland is one of the most popular vacation resort destinations in the Mid Atlantic region. Famous for its beaches, boardwalk, food, and watersports, Ocean City is within a few hours drive of Baltimore.
Chincoteague Island
Located on the Eastern Shore of Virginia, Chincoteague Island is one of the area's most popular destinations. Despite a flood of development in recent years, the island has retained its small town atmosphere that makes its a popular destination for family trips.
Washington D.C.
Washington D.C. is a short distance from Baltimore. The nation's capital, Washington D.C. is filled with historical sites, monuments, and things to do. Trips from Baltimore to Washington D.C. can be completed by automobile, train, or other means of transportation.
Harpers Ferry
Harpers Ferry West Virginia rests on a bluff at the convergence of the Shenandoah and Potomac Rivers. The town and surrounding areas include some of America's most important historic sites.
Havre De Grace
One of Maryland's oldest towns, Havre De Grace (Harbor of Grace) is situated along the lower Susquehanna River. Nearby is Concord Point Lighthouse, which is listed on the National Register of Historic Places.
Pennsylvania
Lancaster County is famous for its Pennsylvania Dutch influence. The area is filled with shops and restaurants where visitors will find food, crafts, furniture, and other goods.
Just a few miles across the Maryland line, Gettysburg is the home to some of America's most sacred historical sites. Gettysburg National Military Park, explorers can tour Gettysburg National Battlefield, Gettysburg Museum and Visitor Center, Gettysburg National Cemetery, and other attractions.
Related Information