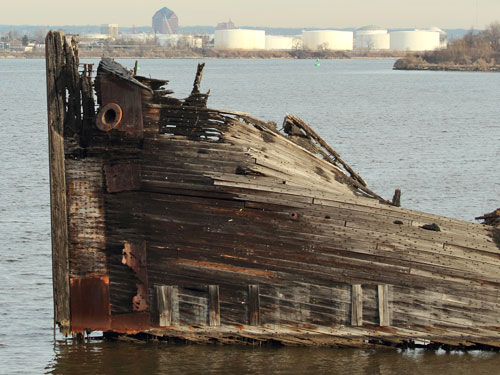 Along the lower Patapsco River, Curtis Bay and Curtis Creek are home to a near forgotten ship graveyard.
One of Baltimore's most infamous waterfront areas, Curtis Bay is dominated by heavy industry, shipyards, and other infrastructure.
Many of Baltimore's old shipwrecks and historic sites are located along a stretch from Hawkins Point near the Francis Scott Key Bridge to Fishing Point, and numerous locations along Curtis Creek.
At Hawkin's Point a submerged wreck is charted just offshore, in approximately 10 feet of water. In coves on either side of the bridge lie the remnants of old vessels, some of which protrude from the water.
On the eastern side of Thom's Cove, the remains of a burnt out pier protrude towards open water.
Along the shoreline of Curtis Bay from Leading Point to Sledds Point are several WW I era wooden ships, scuttled and aligned end to end to form a breakwater. The large wooden ships have deteriorated almost beyond recognition, and lie covered in vegetation.
The largest group of visible wrecks lie in a quiet cove near Walnut Point. Near the shoreline are an array of wrecks, ranging from a concrete hull to the burnt skeleton of a wooden ship.
A smaller group of ship remains lie farther up Curtis Creek on the western shoreline near the railroad bridge.
Farther up Curtis Creek is an abandoned tugboat. The remains of other long forgotten ships, barges, and other vessels lie submerged nearby, many just below the surface.
Curtis Creek is also home to one of Baltimore's most unique military facilities. The U.S. Coast Guard shipyard is the only of it's kind in the nation. In addition to performing work on modern day equipment, the shipyard maintains tall ships and other historic vessels.
Related Information