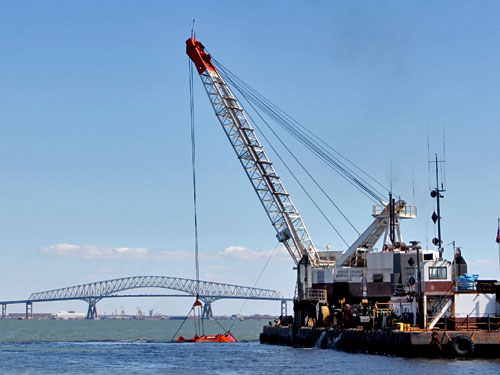 Channel dredging operations will be conducted on several channels and waterways near Baltimore in 2020. Dredging work is scheduled to begin in January and continue into July.
Great Lakes Dredge and Dock (GLD&D) will be conducting dredging operations in Brewerton Eastern Extension, Tolchester channel, Brewerton Angle, Brewerton Channel, and the Northwest Branch (East Channel) Harbor channels.
Dredging will commence 5 Feb until 31 Jul 2020, 24 hours a day, 7 days a week.
GLD&D equipment on scene will be Dredge 54 and 55. Supporting the dredge work will be the tugs MICHAEL DAIGLE, BERING DAWN, ANNE JARRETT, ALLIE B, GULF DAWN, REED DANOS, and HAYES.
In Stoney Creek (Anne Arundel County), maintenance dredging operations will occur from January 20 until March 31, 2020.
The offload operations will take place in Stoney Creek located at Green Haven Wharf, approximate position 39° 8'46.21″N, 76°33'5.15″W.
Dredging will also take place in the Eli Cove, Sloop Cove and Long Cove with barges moving up and down Stoney Creek transporting dredge spoils. The channel width of Stone Creek, Long Cove, Eli Cove and Sloop Cove will be restricted during the dredging operation.
Working vessels will include the Edwin A. and John O. Crandell, Inc. tug boat "Big C Too" and dredge.
The U.S. Coast Guard urges mariners to use caution when transiting the area and reduce to a no-wake speed in the vicinity of the equipment.
Source: U.S. Coast Guard 5th District Local Notice to Mariners
Related Information