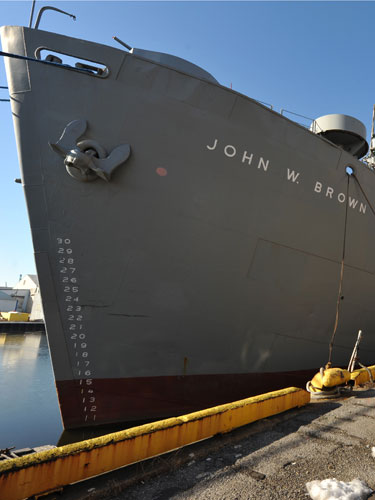 In late 2019, Project Liberty Ship Inc., owner and operator of the World War II museum ship SS JOHN W. BROWN, and Maritime Applied Physics Corp. (MAPC) announced an $18 million plan to revitalize a portion of the former Bethlehem Steel Fairfield Shipyard and provide a home base for the ship's education and cruise activities as well as support for MAPC's growing shipbuilding and maritime technology operations.
The proposal would utilize federal and state funding, augmented by corporate and individual donations, to rebuild a fitting-out pier at the former yard in South Baltimore. The pier would be owned and administered by a non-profit entity.
The SS JOHN W. BROWN liberty ship has been a familiar sight on Baltimore's Canton waterfront since it returned to the city in 1988.
The historic ship was launched at the Bethlehem-Fairfield shipyard on Labor Day in 1942. Since restoration began, it has sailed more than 25,000 miles, visiting 29 North American ports with its trademark "living history" cruises that feature 1940s-era entertainment and fly-bys from vintage aircraft. The ship also takes frequent cruises in the Chesapeake Bay.
The JOHN W. BROWN is one of only two operating Liberty Ships remaining out of a total of 2,710 built nationwide during WWII. Converted during the war to a partial troop transport, the vessel is the only remaining troop transport which landed combat forces on an invasion beach.
Named after a shipbuilding labor leader, JOHN W. BROWN is listed in the National Register of Historic Places, which designates sites and objects worthy of preservation in America.
MAPC designs and builds advanced technology systems and vessels for the Defense Department, as well as commercial products, such as the new Baltimore water taxis and floating aquaculture systems. It owns and has a plant on the land where the Bethlehem-Fairfield yard was located in the 1940's.
MAPC currently holds a 50-year lease, with an option to purchase the 780-foot pier that needs to be replaced to accommodate the JOHN W. BROWN and the expansion of MAPC's business.
MAPC company has two workforce development partnerships in Baltimore and an active apprenticeship program with the state of Maryland. It employs welders, electronic technicians, machinists, engineers and naval architects.
Both PLS and MAPC see the innovative plan to restore pier space on the footprint of the historic fitting-out pier, one of the few remaining WWII era shipyard structures as a means of keeping Baltimore's maritime heritage alive and promoting economic development of the port.
"By co-locating with MAPC, the reconstructed pier would promote growth in South Baltimore," said Michael Barnes. "The presence of the JOHN W. BROWN in Fairfield, near Fort McHenry, would contribute to Baltimore's tourism industry and enhance public knowledge of the importance of the port, which isn't fully appreciated. It would also allow the ship to expand its numerous training programs with youth groups and maritime industry organizations."
Barnes also pointed out that the implementing the plan is expected to take about two years and that the ship is working on interim dockage until the Fairfield pier is ready.
The estimated cost to rebuild the pier includes complete demolition of the remains of the 80-year- old pier, construction of a new heavy ship pier and repair of the bulkhead at the foot of the pier. Other types of replacement piers are also being considered, including floating piers.
Under the joint proposal, dual use of the rebuilt pier would meet Maritime Industrial Zoning Overlay District (MIZOD) requirements for deep water access at the working waterfront by combining the JOHN W. BROWN's education and training missions with MAPC's advanced maritime work.
MAPC would turn over ownership to the new non-profit and in return receive a long-term lease for a portion of the pier. The MIZOD designation was created by Baltimore authorities in 2004 and renewed in 2014.
In addition to its "living history" cruise program, the ship provides a fully operating training platform for the Anne Arundel county STEM program, U.S. Navy Sea Cadets, police and fire first responders, U.S. Coast Guard, U.S. Customs and Border Patrol, Baltimore-based Maritime Institute of Technology and Graduate Studies, Marine Engineers Beneficial Association, and others.
The ship is operated and maintained by a 175-person all volunteer crew, ranging from fully licensed ship masters to entry level deckhands and engineering workers drawn from PLS' overall membership of about 1,200. Since 1988, volunteers have contributed more than 1.9 million volunteer hours of service to the vessel.
One of more than 384 Liberty Ships completed at Bethlehem-Fairfield, SS JOHN W. BROWN completed 13 wartime voyages carrying troops and cargo.
After service, the liberty ship served as a maritime trades high school in New York City for 36 years before returning to Baltimore. More than 500,000 people have sailed aboard the vessel or taken pier side tours.
Project Liberty Ship (PLS) is a 501 (c) 3 organization dedicated to the preservation and continued operation of the JOHN W. BROWN as a memorial to the vital wartime role of the U.S. Merchant Marine, U.S. Navy Armed Guard, and American shipbuilding personnel, three groups instrumental to victory in World War II as well as world-wide sealift operations in support of U.S. national security interests ever since. Its aim is to honor the legacy of all veterans.
For more information, please visit www.ssjohnwbrown.org
source: Project Liberty Ship Inc.