Throughout 2020, an array of marine infrastructure projects will be in progress in Baltimore Harbor and nearby waterways. Improvements include aerial electric power transmission line construction, channel dredging, and other projects.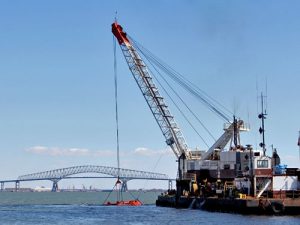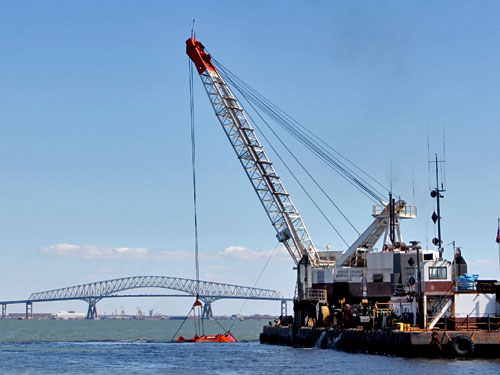 Patapsco River Power Transmission Line Construction
On the Patapsco River, the Key Crossing Reliability Initiative Transmission Line Project will involve replacement of aerial electric power transmission lines, between Hawkins Point and Sollers Point north and adjacent to the Francis Scott Key Memorial (I-695/Baltimore Beltway) Bridge. The work is expected to occur 24 hours per day, 7 days per week, and continue into late 2022.
McLean Contracting Company marine equipment spudded on site will include: (1) a sectional barge (120'x120'x7') with Manitowoc Crane, (2) the Whirley Crane Baltimore barge (140'x70'x12.5'); (3) the Whirley Crane Hampton Roads barge (108'x 46'x8'); (4) a Whirley Crane Newport News barge (110'x43'x8'); and (5) a deck barge.
Mariners are urged to use caution when transiting the area, and to operate at minimum wake speed, according to U.S. Coast Guard notices.
Boaters and other mariners may encounter a number of vessels on site, including "WB29", "MEGALADON", "RISING SUN", "CAPTAIN STEVE", and others that may be contacted on VHF-FM channels 16 and 13.
Baltimore Channel Dredging
Great Lakes Dredge and Dock will be conducting dredging operations in Brewerton Eastern Extension, Tolchester channel, Brewerton Angle, Brewerton Channel, and the Northwest Branch (East Channel) Harbor channels until 31 Jul 2020, 24 hours a day, 7 days a week. Equipment on scene will be Dredge 54 and 55, tugs MICHAEL DAIGLE, BERING DAWN, ANNE JARRETT, ALLIE B, GULF DAWN, REED DANOS, HAYES, which may be contacted on VHF-FM channels 5, 13, 16.
Baltimore Inner Harbor Dredging
McLean Contracting Company will be conducting dredging operations in the Baltimore Inner Harbor Channel near Fells Point. The dredge will need approx. 30-45 minutes notice to clear the channel for passing traffic. The tug RISING SUN will be towing barges in the Fort McHenry Channel over to the Ferry Bar Channel to the Masonville DMCF. All vessels are equipped with AIS. Mariners are cautioned to stay clear of dredge and barges associated with dredging operations. The hours of operation are 6:00 am to 6:00 pm, six days a week.
sources: Fifth Coast Guard District Local Notice to Mariners (LNM), Baltimore Gas and Electric (BGE)
Related Information
Port of Baltimore Modernization Projects